Career and Life Planning Center
Student Services Building (2000) Second Floor 714.992.7121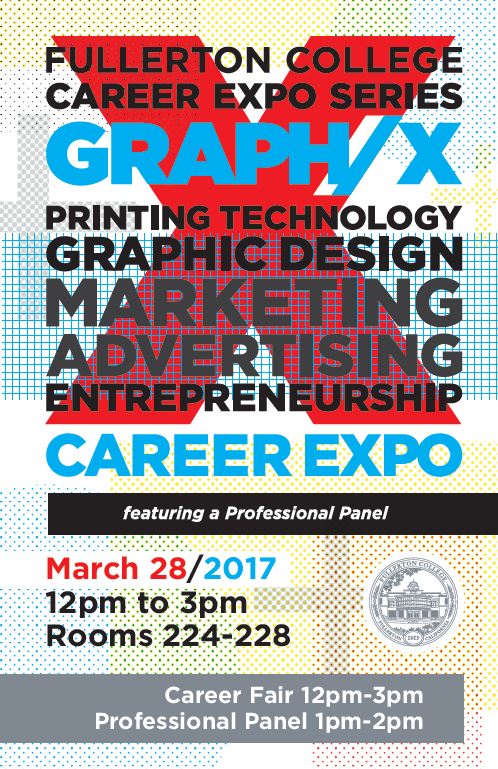 GRAPH/X Career Expo highlights Fullerton College programs and careers in Printing Technology, Graphic Design, Marketing, Advertising, and Entrepreneurship. This is an opportunity for students to learn about these programs and related industries, companies, as well as current and future job openings. The Expo will be on Tuesday, March 28, 2017, 12:00 am. to 3:00 p.m. Employer check in is at 11:00 a.m. Refreshments will be provided. There are no fees to attend.
Event activities are scheduled such as a tour of our Printing Technology lab, a LinkedIn Profile Picture Booth, and an Opportunity Drawing with some great prizes like FC Bookstore Gift Cards, Poster-sized print of student's own Artwork, Printed Business cards, and a tour of a well-known Advertising Agency. Students are encouraged to bring their Resumes and Portfolios. Activities are scheduled to help prepare students for the event, such as Resume and Interview Workshops (see Activities Calendar).
A Professional Panel is being hosted at 1:00 p.m. to 2:00 p.m. to provide students an opportunity to listen directly from employers about their educational and professional backgrounds, how they chose their profession, and steps taken to get to where they are today. They will share insights for students on how to prepare for a career and offer suggestions on how to land their first job within the industry.
Press Release: http://www.nocchamber.com/news/details/fullerton-college-hosts-first-graphx-career-expo